ABOUT THE SHOW
The highly anticipated St. Hyacinthe Outdoors, Fishing, Hunting & Camping Show is coming to the Great Montreal area! The venue for the March 2024 event will be Espace Saint-Hyacinthe, the space is modern, accessible and promises an epic event! Prepare to immerse yourself as we bring together over 200 exhibitors equipped with a range of products and services related to outdoor activities such as hunting, fishing, outfitting, off-road vehicles, boats and boating, camping, RV, and tourism.
Expanding over the BMO Centre & Jefo Pavillion event place, visitors can expect to enjoy seminars and fun activities for all ages! Whether you are new to the outdoor lifestyle or a season pro – this show has products and services related to Quebec's favorite pastimes.
Fishing - A classic portion of the Show. Featured speakers, products, and special features you know & love will be back for 2024!
Hunting – Gear, firearms, archery equipment, taxidermy, guiding and outfitters – plus all the accessories to make your hunting season run smoothly.
Camping – Both backwoods camping enthusiasts and RVers will appreciate seeing the latest models available on the market. Visitors can expect an impressive variety of camping items, exclusive products, specialized brands, tourist promoters and much more.
Powersports – The variety of brands and models of ATVs, UTVs and side-by-sides - each more impressive than the next. Our powersports exhibitors will be showcasing must-see products for 2023, including electric vehicles.
EXHIBIT IN THE SHOW
The St. Hyacinthe Outdoor, Hunting, Fishing & Camping Show has a long history of being a prime opportunity for businesses to connect with fishers, hunters, campers, and outdoor adventurers. With expansive booth opportunities for all interests, this is your company's time to shine.
VISIT THE SHOW
There's no better place to gear up for your next outdoor adventure. The St. Hyacinthe Outdoor, Hunting, Fishing & Camping show brings together exhibitors from all areas related to the outdoors lifestyle. Hunting, Outfitting, mountain biking, boating, RV & Camping, tourism and more!
Show Hours & Location
Friday, March 8
10:00am - 8:00pm
Saturday, March 9
10:00am - 8:00pm
Sunday, March 10
10:00am – 5:00pm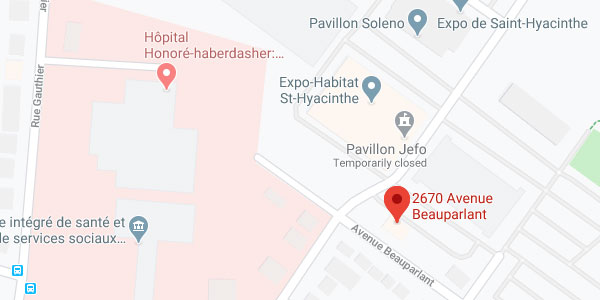 Espace Saint-Hyacinthe
2670, avenue Beauparlant,
St-Hyacinthe, QC
J2S 4M8
(450) 771-5037