ABOUT THE SHOW
JOIN US FOR THE 2024 EDITION AND CELEBRATE THE GREAT OUTDOORS!
The St. Hyacinthe Outdoor, Hunting, Fishing & Camping Show has a long history of being a prime opportunity for businesses to connect with the fishers, hunters, campers, and outdoor adventurers. This event has a strong following with thousands of repeat customers, along with a proven record of expanding and attracting new visitors and making the outdoors approachable for the next generation, and new outdoor enthusiasts!
Under new management, we will continue to bring together the content attendees are looking for with numerous features, seminars, educational sessions and so much more!  Whether your company is large or small, trade shows offer a unique opportunity to market your products and services. From collecting qualified leads, to making sales, to building relationships, a trade show can help you accomplish all of this and more. There isn't a more effective way to build and strengthen relationships than meeting someone face-to-face.
EXHIBIT CATEGORIES
Fishing: Recreational and skilled anglers will be coming to the show to find the gear they need to get ready for fishing season. Surveys show that a large proportion of our attendees have an interest in fishing - this is your chance to put your product in front of an engaged audience.
Hunting: Visitors will be keen to start thinking about the coming hunting seasons and will be interested in the gear, firearms, archery equipment, taxidermy, guiding and outfitters – plus all the accessories to make their hunting season run smoothly. All of this and more will be at this year's show.
Camping: Both backwoods camping enthusiasts and RV'ers will appreciate seeing the latest models available on the market. Visitors can expect an impressive variety of camping items, exclusive products, specialized brands, tourist promoters and much more. This show is a great opportunity for camping enthusiasts wishing to adequately prepare for the next summer season with the latest technology and specialized equipment.
Powersports: Exhibiting at the show is the best way to put your product in front of thousands of the region's top qualified buyers. Powersports vehicle manufacturers and dealers bring tremendous value to the event. The variety of brands and models of ATVs, UTVs and side-by-sides - each more impressive than the next, attracting some of the largest crowds. The powersport presence on the show floor rounds out everything for the outdoor enthusiasts, and "wows" attendees with a variety of exciting units.
Outdoors: Quebecers have always been known to be fans of the outdoors in all its forms. That's why we invite experts in the field of camping, glamping, van life, hiking, kayaking, paddle boarding, climbing, kitesurfing, and adventure destinations, who offer a host of activities and equipment, to promote an outdoor lifestyle through our shows.
Hello from Patrick Campeau - Our Official Spokesperson
About Espace Saint-Hyacinthe
With its state-of-the-art facilities and ample space, Espace Saint-Hyacinthe offers an exceptional experience for exhibitors and attendees alike. Take a glimpse at the venue in the video below and get ready to immerse yourself in the great outdoors at the upcoming show at Espace Saint-Hyacinthe.
CLICK HERE to learn more.
EXHIBIT PACKAGE & PRICING
EXHIBIT LIKE A PRO
Our all-inclusive booth package includes:
Back & side wall drapery

Aisle Carpeting

Container Storage

Discount Admission Passes

Forklift Services to and from your booth up to 5,000 lbs* (provided that special lifting and moving equipment is not required)
PRICING:
Standard Booth (100 sq. ft. - 499 sq.ft)               $14.00/sq. ft.
Deluxe Booth     (100 sq. ft. - 499 sq.ft.)               $17.00/sq.ft (includes carpet & one electrical outlet)
•Corner Booth Placement                                            $345.00
Large Booth      (500 sq. ft. – 1,499 sq. ft.)           $8.75/sq. ft.
X-Large Booth (1,500 sq. ft. or more)                  $6.45/sq. ft.
**Mandatory flooring covering is required for all booths at the expense & responsibility of the exhibitor.
Book Space
Please click BOOK ONLINE to complete your space rental contract online
Otherwise, click DOWNLOAD CONTRACT to fill out the PDF contract form manually then send it to clapointe@mpltd.ca
Sponsorship Opportunities
The opportunities outlined in the following pages are limited in number, so don't delay! All sponsorship opportunities are available on a first come, first served basis.
Accommodations
Hotel le Dauphin Saint-Hyacinthe
1250 Rue Daniel - Johnson O, Saint-Hyacinthe, QC J2S 7K7
(450) 774-4418

Room Rate: $149/night
Click Here to Reserve Your Room.
Deadline to book: Monday, February 5th, 2024
Holiday Inn Express 
1500 Rue Daniel - Johnson E Estates, Saint-Hyacinthe,
Quebec, J2S 8W5
(450) 251-1111

Room Rate: $199/night
Click Here to Reserve Your Room.
Deadline to book: Friday, February 9th, 2024
Sheraton Saint-Hyacinthe Hotel
1315 Rue Daniel - Johnson O, Saint-Hyacinthe, QC J2S 8S4
(450) 250-5555

Rates starting at $189/night
Click Here to Reserve Your Room.
Deadline to book: Wednesday, February 7th, 2024
Hotel Rive Gauche
1810 Rue Richelieu, Beloeil, Quebec J3G 4S4
(450) 467-4477

Starting at $197 per night
Click Here to Reserve Your Room.
Deadline to book: Monday, January 15th, 2024

Hôtel et Suites Le Dauphin Drummondville
600 Bd Saint-Joseph, Drummondville, QC J2C 2C1
(819) 478-4141

Room Rate: $154/night
Click here to reserve your room
Show Hours & Location
Friday, March 8
10:00am - 8:00pm
Saturday, March 9
10:00am - 8:00pm
Sunday, March 10
10:00am – 5:00pm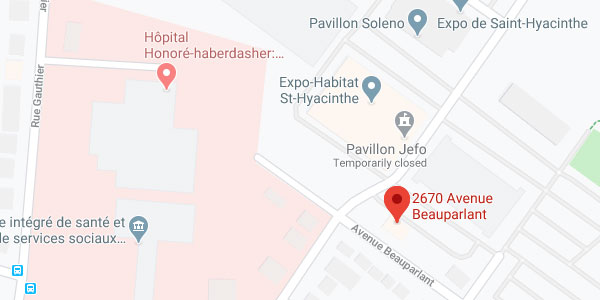 Espace Saint-Hyacinthe
2670, avenue Beauparlant,
St-Hyacinthe, QC
J2S 4M8
(450) 771-5037